Generative AI's impact on 𝐩𝐫𝐨𝐝𝐮𝐜𝐭𝐢𝐯𝐢𝐭𝐲 𝐰𝐢𝐥𝐥 𝐚𝐝𝐝 𝐭𝐫𝐢𝐥𝐥𝐢𝐨𝐧𝐬 𝐨𝐟 𝐝𝐨𝐥𝐥𝐚𝐫𝐬 𝐢𝐧 𝐯𝐚𝐥𝐮𝐞 𝐭𝐨 𝐭𝐡𝐞 𝐠𝐥𝐨𝐛𝐚𝐥 𝐞𝐜𝐨𝐧𝐨𝐦𝐲. McKinsey's latest research estimates that generative AI could add the equivalent of $2.6 trillion to $4.4 trillion annually across the 63 use cases they analyzed. This would increase the impact of all artificial intelligence by 15 to 40 percent.
Generative AI will have an impact on most business functions, but, a few stand out when measured by the technology's impact as a share of functional cost.
An analysis of 16 business functions identified just four that could account for approximately 75 percent of the total annual value from generative AI use cases:
✔ customer operations,
✔ marketing and sales,
✔ software engineering, and
✔ research and development
Generative AI will improve the customer experience and agent productivity through 𝐝𝐢𝐠𝐢𝐭𝐚𝐥 𝐬𝐞𝐥𝐟-𝐬𝐞𝐫𝐯𝐢𝐜𝐞 𝐚𝐧𝐝 𝐞𝐧𝐡𝐚𝐧𝐜𝐢𝐧𝐠 𝐚𝐧𝐝 𝐚𝐮𝐠𝐦𝐞𝐧𝐭𝐢𝐧𝐠 𝐚𝐠𝐞𝐧𝐭 𝐬𝐤𝐢𝐥𝐥𝐬.
Generative AI has also taken hold rapidly in marketing and sales functions, in which 𝐭𝐞𝐱𝐭-𝐛𝐚𝐬𝐞𝐝 𝐜𝐨𝐦𝐦𝐮𝐧𝐢𝐜𝐚𝐭𝐢𝐨𝐧𝐬 𝐚𝐧𝐝 𝐩𝐞𝐫𝐬𝐨𝐧𝐚𝐥𝐢𝐳𝐚𝐭𝐢𝐨𝐧 𝐚𝐭 𝐬𝐜𝐚𝐥𝐞 𝐚𝐫𝐞 𝐝𝐫𝐢𝐯𝐢𝐧𝐠 𝐟𝐨𝐫𝐜𝐞𝐬. The technology can create personalized messages tailored to individual customer interests, preferences, and behaviours, as well as do tasks such as producing first drafts of brand advertising, headlines, slogans, social media posts, and product descriptions.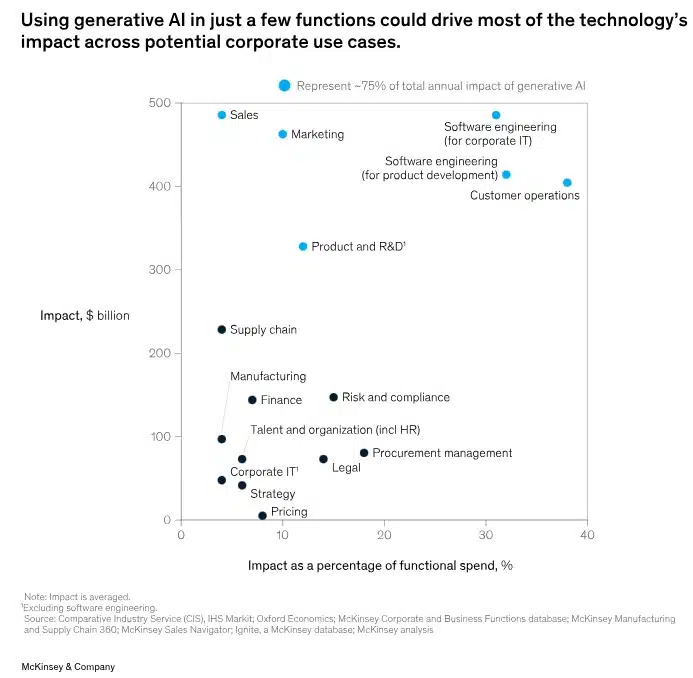 👉 Here is the full article: https://www.mckinsey.com/capabilities/mckinsey-digital/our-insights/the-economic-potential-of-generative-ai-the-next-productivity-frontier?stcr=C9A75624B81C4A47AB66FFA090CEB42B&cid=other-eml-ttn-mip-mck&hlkid=3d1526c2422d4db7b6a3d8daee2f22fc&hctky=12133124&hdpid=43e6702d-4a28-4eaf-b5de-33b36f6bd3f8#introduction