The #DESI or the 𝐃𝐢𝐠𝐢𝐭𝐚𝐥 𝐄𝐜𝐨𝐧𝐨𝐦𝐲 𝐚𝐧𝐝 𝐒𝐨𝐜𝐢𝐞𝐭𝐲 𝐈𝐧𝐝𝐞𝐱
DESI summarises indicators of Europe's #digital#performance and tracks the progress of EU countries. The average in Europe is 52.3, and Slovenia has 53.4. Slovenia ranks 11th among the 27 EU Member States in the 2022 edition of the DESI.
When it comes to 𝐃𝐄𝐒𝐈 𝐇𝐮𝐦𝐚𝐧 𝐂𝐚𝐩𝐢𝐭𝐚𝐥 𝐑𝐞𝐩𝐨𝐫𝐭, Slovenia approaches the 45.7 EU average in Human capital with a score of 44.3. It falls behind the EU average of 54%.
According to the report:
– 49.7% of people in Slovenia have at least basic digital skills.
– 4.8% of employees in Slovenia are digital experts, but 69% of companies that hired or tried to hire digital experts report difficulties in filling these vacancies. 
#digitalization#people#DESI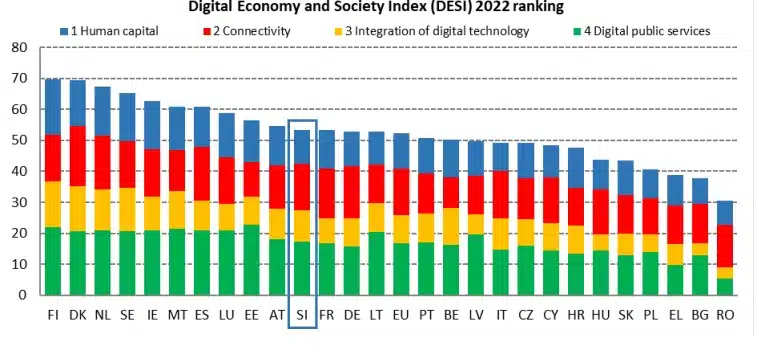 Source: https://digital-strategy.ec.europa.eu/en/policies/desi