Great insights from the 𝐋𝐢𝐧𝐤𝐞𝐝𝐈𝐧 𝐖𝐨𝐫𝐤𝐩𝐥𝐚𝐜𝐞 𝐋𝐞𝐚𝐫𝐧𝐢𝐧𝐠 𝐑𝐞𝐩𝐨𝐫𝐭 𝟐𝟎𝟐𝟑.
In the report, there are insights from a global survey of more than 1,500 learning and development (L&D) pros and 700 learners.
There 𝐢𝐬 𝐚 𝐡𝐮𝐠𝐞 𝐧𝐞𝐞𝐝 𝐟𝐨𝐫 𝐮𝐩𝐬𝐤𝐢𝐥𝐥𝐢𝐧𝐠 𝐚𝐧𝐝 𝐫𝐞𝐬𝐤𝐢𝐥𝐥𝐢𝐧𝐠 𝐭𝐡𝐞 𝐰𝐨𝐫𝐤𝐟𝐨𝐫𝐜𝐞:
– 40% of companies are still in the early stages of upskilling or reskilling (selling their program to stakeholders and forming their teams);
– 54% are at the midstage (developing and activating programs);
– 2% say they've completed a program.
– 4% haven't started at all.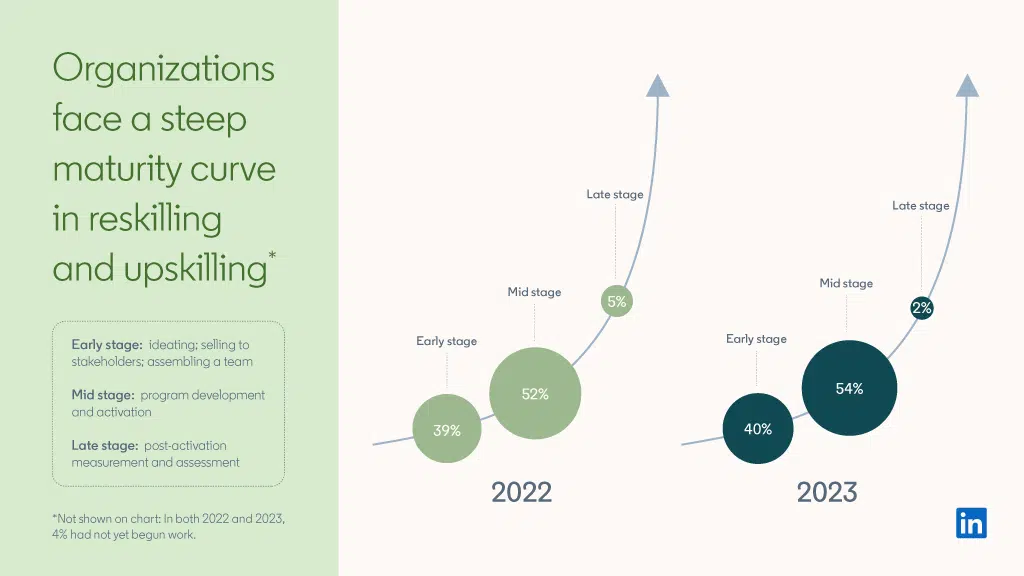 Source: 𝐋𝐢𝐧𝐤𝐞𝐝𝐈𝐧 𝐖𝐨𝐫𝐤𝐩𝐥𝐚𝐜𝐞 𝐋𝐞𝐚𝐫𝐧𝐢𝐧𝐠 𝐑𝐞𝐩𝐨𝐫𝐭 𝟐𝟎𝟐𝟑