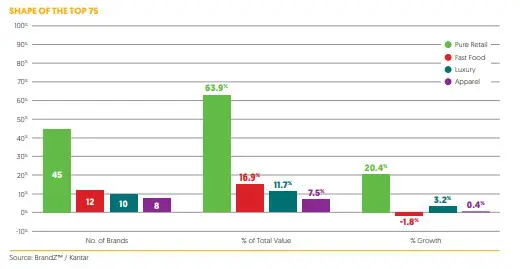 As we can see 45 out of 75 are from pure retail sector. Pure retail is what we call ssupermarkets, convenience stores, department stores, e-commerce specialists and hardware stores. These brands have grown in value by 20.4 percent. It is not just the digital-native retail brands – the likes of Amazon, Alibaba and JD – that are seeing growth. Legends of physical retail such as Walmart, Target and Sam's Club are adapting and thriving.
Fast Food brands have also seen a spike, due to partnerships with technology platforms and delivery services. The category is led by McDonald's, which has made adjustments to its menu and renewed its focus on the provenance of ingredients, as well as developing new technology in drive-throughs and restaurants that makes choosing easier and more efficient with their smart screens.
Starbucks retains seventh position in the Top 75. The rollout of hundreds of new stores in China is part of its success, along with new product innovation, mobile ordering, delivery, celebrity communications and personalized offers through the brand's loyalty scheme. KFC and Subway are the next most valuable brands in the Fast Food category.
Luxury brands have seen considerably slower growth, of 3.2 percent. There are still 10 luxury brands in the Retail Top 75, led by Louis Vuitton, Chanel and Hermes. Louis Vuitton has continued to expand globally, has opened its latest flagship store in Seoul's trendy Gangnam district. Italy's leading brand in the ranking, Gucci, has been enjoying strong growth in Asian markets, and is teaming up with tech giant Tencent to further tap the Chinese market in data-driven ways.
The Apparel sub-category is led by sportswear and footwear giant Nike, which continues to drive growth through product innovation, digital developments in its stores, and a highly personalized loyalty program. Lululemon and adidas are also enjoying growth thanks to regularly updated product lines and a worldwide surge in interest around fitness, wellness, and casual sportswear.
Fast fashion brands such as Zara, Zalando and H&M are finding the going tougher and have suffered as a result of virus-related store closures and a drop-off in footfall to stores and malls generally. The Apparel category overall posted 0.4 percent growth in brand value this year.