Nowadays, we are keener on looking at startups' 409a valuations. 𝐀 𝟒𝟎𝟗𝐀 𝐯𝐚𝐥𝐮𝐚𝐭𝐢𝐨𝐧 𝐢𝐬 𝐚𝐧 𝐚𝐩𝐩𝐫𝐚𝐢𝐬𝐚𝐥 𝐨𝐟 𝐭𝐡𝐞 𝐟𝐚𝐢𝐫 𝐦𝐚𝐫𝐤𝐞𝐭 𝐯𝐚𝐥𝐮𝐞 (𝐅𝐌𝐕) of the common stock of a private company by an independent third party. They're meant to reflect how much stock would cost if these companies did go public.
3 Unicorns and their valuation drop:
✔ Checkout.com, the digital payments platform, dramatically reduced its internal valuation to $11 billion less than a year after raising a $1 billion round at a $40 billion valuation in January 2022. That's a 73% difference.
✔ Grocery delivery startup Instacart met the same fate. Its $12 billion internal valuation, reportedly set in April, was 69% lower than the $39 billion valuation investors pinned on it during a March 2021 funding round.
✔ Stripe, another fintech startup that may as well be a household name, reportedly lowered its internal valuation by 40% in six months. The Information reported in January that the company's internal valuation was $63 billion, a 34% drop from when it was valued at $95 billion in March 2021.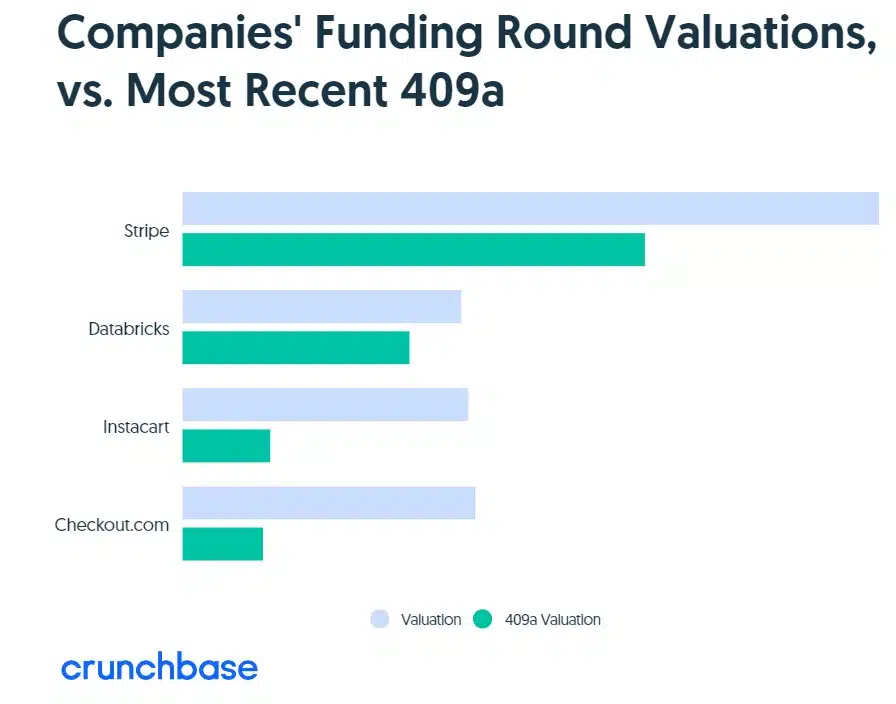 Source:
https://news.crunchbase.com/startups/unicorn-company-valuations-409a-stripe-instacart-checkout-com/
#unicorns #valuations #startups